Our Story
How we met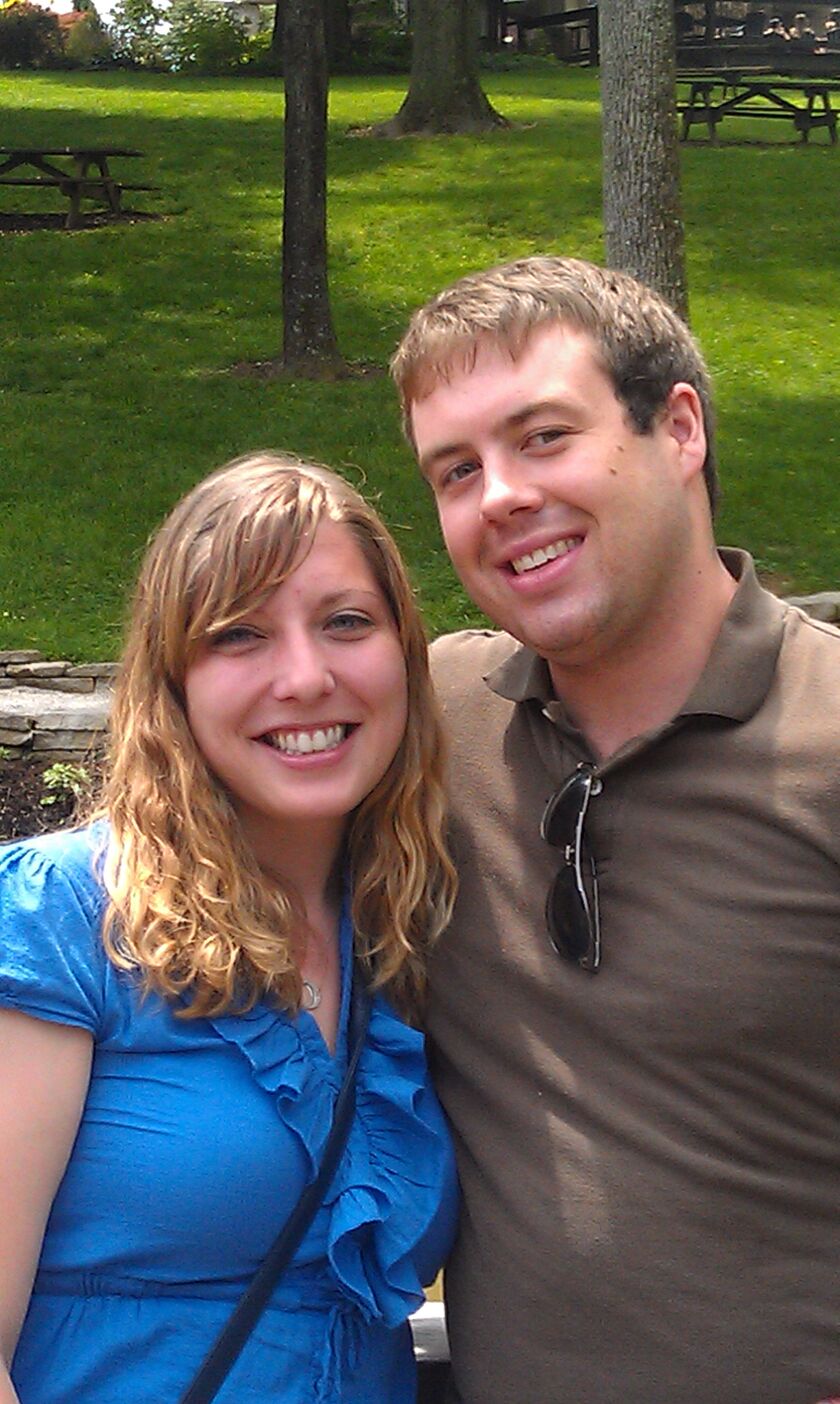 "I feel like you hate me."
"I don't even know you?"
That was our first interaction at a mutual friends' party in the fall of 2011. Sean walked away after Lindsey somewhat confirmed that she didn't hate him, and Lindsey brushed off the confrontation as random and not important.
But then they were in the small journalism ethics class that semester, and Sean's book didn't arrive before they needed it for an assignment. He sent Lindsey a message on Facebook asking to borrow her book, and she replied with her number so they could coordinate a time to meet. Clever way to get Lindsey's number, right? He never even borrowed the book, but the texting continued.
Then one night a couple mutual friends —Melissa and Chrissy—gave Sean, Lindsey and their other mutual friend Caitlin a ride home from the bars. Safety first, obviously. Lindsey snagged a spot in the backseat next to Sean so she could keep talking to him. Caitlin sang songs from the "Wicked" soundtrack, and Lindsey and Sean made plans to hang out soon. Chrissy and Melissa sat in the front seats trying to figure out what was happening. Was Sean asking Lindsey out?
They followed through on the plans they made that night, and within a few weeks, Sean told Lindsey he was going to start calling her his girlfriend. People kept asking, he had to tell them something, right?
How we got here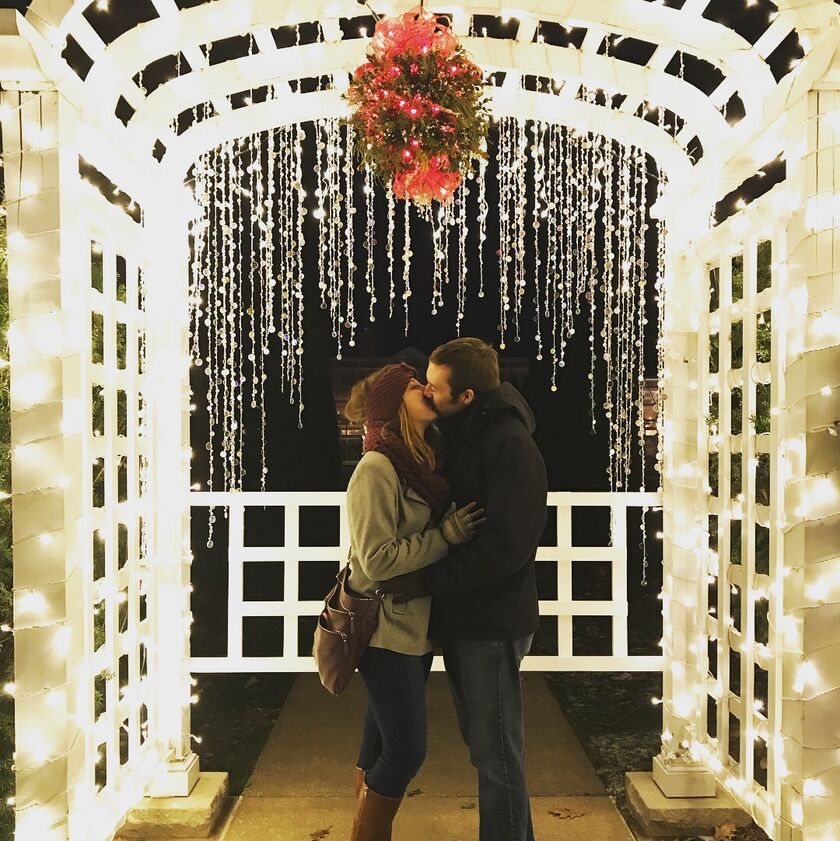 Since Lindsey and Sean graduated from Indiana University in May 2012, they've spent time living in different time zones, different cities and different states.
Initially after college, Lindsey headed to Phoenix for an internship with the Arizona Republic, while Sean stayed in Indiana. A few months later, Lindsey took a job with The State-Journal in Frankfort, Kentucky, which meant she and Sean only lived an hour apart.
They spent almost every weekend (some weekdays) driving Interstate 64 to see each other that year.
Then in fall 2013, Sean enrolled at the IU Indianapolis McKinney School of Law, and they prepared to live two-and-a-half hours apart. But as luck would have it, around the same time, Lindsey was offered a job at The Herald Times in Bloomington. They would both move, and it still wouldn't be to the same city, but they maintained their hour distance.
In early 2015, with Sean still in law school in Indianapolis, Lindsey accepted a job with the Indianapolis Business Journal. And in May 2015, they moved into their first apartment together and could finally say they were living in the same city again.
They've been living in downtown Indianapolis ever since.
In May 2018, they expanded their family by four paws and adopted a beagle-pug mix that they named Dasher. She's now the center of their attention.
How he proposed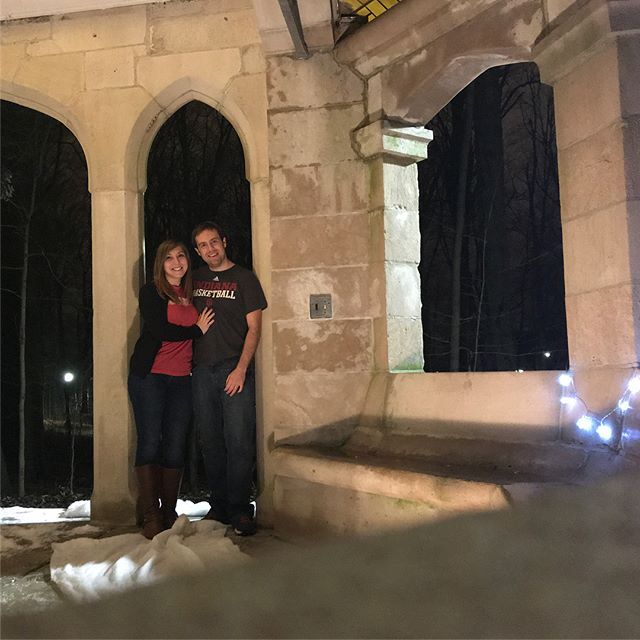 Our lives changed forever on Feb. 23, 2018.
Sean had surprised Lindsey with tickets to the IU basketball game that night in Bloomington, and they were able to get to town early enough to get dinner and drinks before the game.
They ate at Upland Brewery—one of their favorite places to go when they're back in Bloomington. And then watched a nail biting double overtime game against The Ohio State University. Sadly, IU lost, but it was a hard-fought battle.
After the game, Sean told Lindsey a few of his friends were at Nick's English Hut—another one of their favorite Btown places—and he wanted to stop by and see them.
So, they headed downtown, but once they parked, Sean told Lindsey they were making a detour. It was the last home basketball game that season, which meant it was senior night, and their friend (and future groomsman) Chris had texted to say a banner for a senior player, Robert Johnson, was being hung up on campus.
Lindsey immediately thought that seemed weird. Sure, he was a good player, but not THAT good. It didn't make sense to her, but Sean was adamant. They had to at least go look for it. So, she followed him through the Sample Gates in toward campus.
Chris had said the banner was near the Student Building, but as they passed the Student Building, there was nothing. Lindsey was ready to head back, but Sean kept walking, so she followed.
It only took a few more steps for her to see the Rose Well House had been covered in fake snow, and that's where Sean was headed. Then it all made sense. He tricked her to get her there so he could propose. It worked, because she said, "yes!"
Afterward, the surprises continued. Sean had brought in two of Lindsey's closest friends, MJ and Rachel, and their good friends Katie and the aforementioned Chris, to set up the snowy scene. They were waiting at Nick's after the proposal. And Sean had booked hotel rooms for everybody (including his future best man Mason who was in town too), and had packed an overnight bag for the both of them.
They spent the rest of the weekend happily celebrating and sharing the exciting news with their friends and family.
The Wedding
Saturday, April 27, 2019
4:30 PM
Attire: Cocktail attire
Ceremony and Reception
Deer Park Manor Weddings and Events
1501 E Hillside Dr #300, Bloomington, IN 47401, USA
Parking is available on site. For other transportation items, please visit our transportation page.

Program:
4-4:30 p.m. Guests arrive
4:30 p.m. Ceremony
5 p.m. Cocktail hour
6 p.m. Wedding party entrances, first dance
6:15 p.m. Buffet dinner
7 p.m. Toasts
7:15 p.m. Dance party
10 p.m. Last call
10:30 p.m. Everybody out
Other Events
Come calm our nerves
Friday, April 26, 2019
8:00 PM
Nick's English Hut
423 E Kirkwood Ave, Bloomington, IN 47408, USA
We will be hanging out at one of their favorite Bloomington spots the night before the wedding. If you're in town early, come say "hello." We would love to see any family and friends!
Wedding Party
MJ Slaby - Maid of Honor
Lindsey and MJ met in college while working for the Indiana Daily Student. MJ shared a Rice Krispies Treat with Lindsey one day, and they've been best friends ever since. After a short (but wonderful) period of working with Lindsey at The Herald-Times in Bloomington, MJ went to work for the Knoxville News Sentinel and is now a reporter for The Incline in Pittsburgh.
Nicole Luczak - Matron of Honor
Nicole is Lindsey's older sister and second mom. After years of not getting along when they were younger—Nicole says it's because Lindsey was a brat, but that can't be right—they grew closer together when Lindsey was in high school. They hate living 5 hours away from each other, but it's always fun when they're together.
Shannon Pishack - Matron of Honor
Shannon is also an older sister of Lindsey's and a second mom to her. She helped take care of Lindsey when she was little, including teaching her how to swim, play volleyball and, most importantly, be tough. Lindsey and Shannon are both known for their clumsiness, so it's kind of necessary to be tough. Shannon also taught Lindsey how to be competitive—a skill they're both handing down to Shannon's son whenever they play games together.
Jake Wright - Man of Honor
Jake and Lindsey met freshmen year at Indiana University when they both lived on the fifth floor of Read Hall. They took journalism classes together, worked at the Indiana Daily Student together and enjoyed eating the homemade Chex mix Lindsey's mom would send together. Jake is a reporter for The South Bend Tribune in South Bend, Indiana.
Kelsey Slaght - Bridesmaid
Kelsey and Lindsey have known each other since preschool and have always been there for each other. From barbies to days at the lake to high school graduation and now to getting married. Even when Lindsey went to IU or Kelsey moved to Virginia and later Iowa, they always managed to find time to visit each other and catch up on the phone. Kelsey lives in Dubuque, Iowa with her husband Kenny. Lindsey supported the move, because it's closer than Virginia was.
Katie Dogan - Bridesmaid
Katie and Lindsey knew each other in college, and both lived and worked in Bloomington shortly after graduating, but they became close friends once they were both living in Indianapolis. They've bonded over their shared hatred of mint, extreme love of Christmas and top-class tailgating and party-planning skills. They also both enjoy playing euchre while drinking wine and eating homemade chex mix.
Sofia - Flower Girl
Sofia is Lindsey's only niece. She is 4 years old and the most adorable girl in the world. She's VERY excited to wear a pretty dress and be involved in the wedding.
Everett - Ring Bearer
Everett is Lindsey's youngest nephew. He will be almost three years old at the wedding. He enjoys cleaning in his spare time and loves Bob the Builder.
Grady - Usher
Grady is Lindsey's oldest nephew. At 9 years old, luckily, he still really likes his aunt and enjoys all the random, small gifts she often brings home for him. He wanted to be the flower girl, but he's settling for usher.
Connor - Usher
Connor is Lindsey's second oldest nephew, who is only a few months difference from Grady. He also still humors his aunt. He was probably more excited about the spy sunglasses she gave them then the actual idea of being an usher, but that's OK. The best money Lindsey ever spent on Connor was a $1 Spoons card game set that is now falling apart because it's been used so much.
Kyle O'Connor - Groomsman
Joel Mestemaker - Groomsman